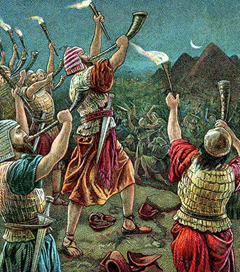 Gideon's 300 now attack the enemy and route them by God's mighty power. And yet, instead of celebrating and praising the Lord, some Israelites are angry, jealous, and bitter, wanting to start trouble within God's chosen people. In this week's sermons, we talk about being used by God for great things, giving him alone the glory, and how to deal with difficult people who are intent on making trouble and discord.
Sermon on Judges 7:15-25,
"Role Reversal"
(Click here to download this sermon as an MP3.)
.
Sermon on Judges 8:1-3,
"You Mad, Bro?"
(Click here to download this one as an MP3. As always, you can access many more of my sermons on the church website, www.churchlansing.com)
.
.